About Us
On 08th of January 2013, the Consumer Action Network Mental Health Lanka, known as CAN MH Lanka, was established. This network aimed to empower persons with psychosocial disabilities and raise awareness about mental health within the community by networking DPOs throughout the country.
In response to the challenges faced by persons with psychosocial disabilities, including stigma, limited support, and economic barriers, CAN MH Lanka has emerged as a dynamic force over the past decade. Our Decade of Impact (2013-2023) showcases significant strides in empowering individuals, advocacy against stigma, capacity building, and promoting mental health in various settings.
As CAN MH Lanka celebrates its 10th anniversary in 2023, it continues to be a force for positive change in the lives of persons with psychosocial disabilities, striving for empowerment, advocacy, and societal understanding.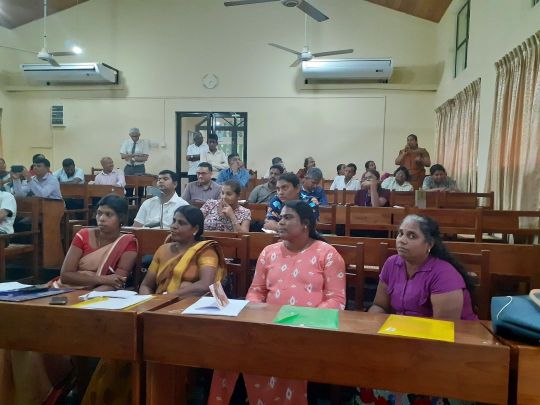 Decade of Impact (2013-2023)
EmpoweringPersons with Psycho-social Disabilities
Initiatives to enhance the well-being and empowerment of persons with psycho-social disabilities.
Advocacy to Eradicate Stigma and Protect Rights
Advocacy efforts to eliminate stigma and safeguard the rights of persons with psychosocial disabilities.
Capacity Building Among Mental Health Stakeholders
Programs aimed at enhancing the understanding of mental health policy and practice among stakeholders.
Promoting Mental Health
Initiatives to promote mental health in the environments where people live, work, learn, and thrive.
objective 1
Empowerment
Objective: Facilitate the empowerment of persons with psychosocial disabilities through networking initiatives.
Rationale: By creating a supportive network, we aim to empower persons with psychosocial disabilities at district, and national levels, fostering a sense of community and shared advocacy. 
objective 2
Advocacy
Objective: Advocate for the protection of the rights and empowerment of persons with psychosocial disabilities at the policy level.
Rationale: To create lasting change, we strive to influence policies that safeguard the rights and well-being of persons with psychosocial disabilities, ensuring their inclusion in society. 
objective 3
Networking
Objective: Network with local cross-disability movements and regional/global organizations for collective action in advocacy and empowerment.
Rationale: Recognizing the strength in collaboration, we seek to build alliances across different sectors to amplify our advocacy efforts and promote a more inclusive society. 
objective 4
Stigma Reduction 
Objective: Work towards stigma reduction by educating and advocating within the community on mental health.
Rationale: Raising awareness is essential for combatting stigma. By engaging the community in educational initiatives, we aim to dispel myths and foster understanding.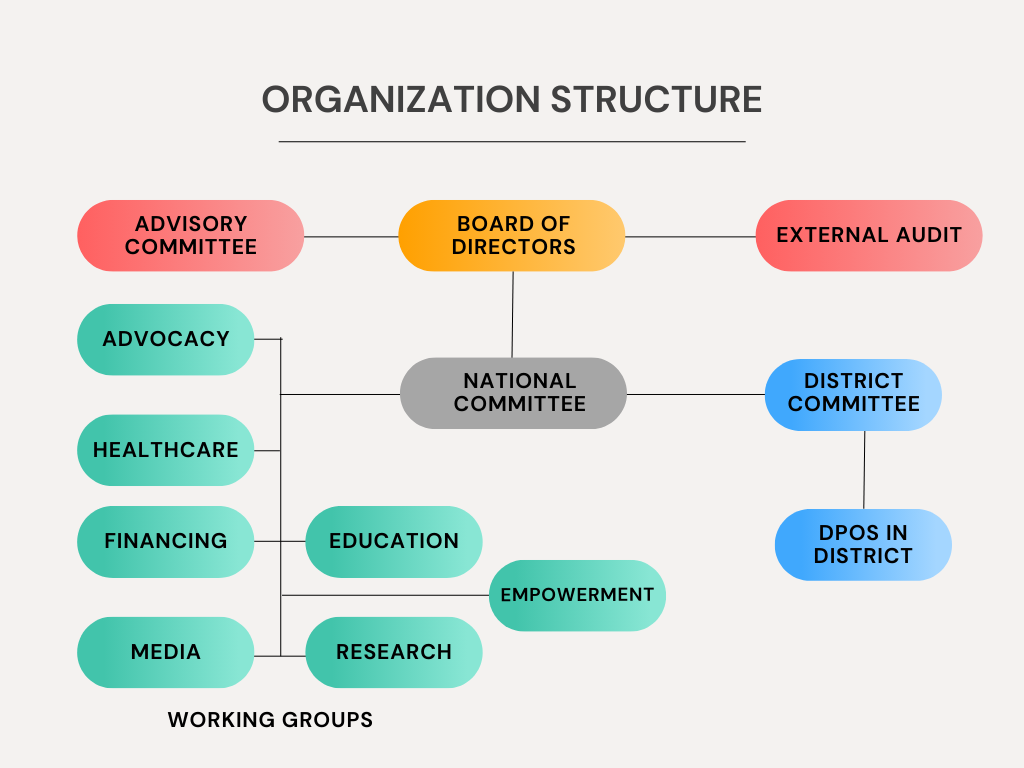 Organization Structure
The Governing Body, represented by the Board of Directors, comprises nine individuals, each with equal rights. This inclusive composition includes three persons with psychosocial disabilities, two carers, two service providers, and two representatives from the broader community.
Embodying decentralization, district organizations operate with an executive committee featuring key positions such as president, secretary, vice president, deputy secretary, treasurer, and district organizer. The district organizer, a professional member, serves as a crucial link, representing the district committee at the national level.
Working Groups, each focusing on specific aspects such as financing, education, advocacy, media, research, healthcare, and empowerment, form the operational backbone. This multifaceted structure reflects our commitment to holistic mental health initiatives, inclusive representation, and collaborative networking for positive societal impact.

Dive into the details to discover the enhancements and refinements that align with our commitment to positive change in mental health advocacy.Read the constitution and stay informed about the latest developments.
CAN MH Lanka © 2023 All rights reserved.